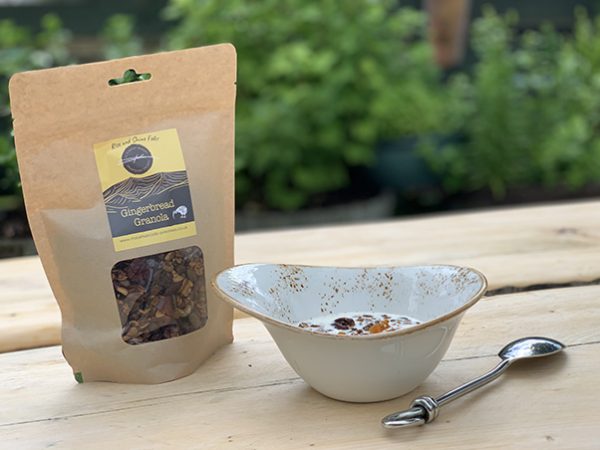 Mountain Cafe Granola – Gingerbread
£4.20
Our own recipe granola
Lightly spiced, moreish, nutty & fruity
The perfect morning kickstarter
We bake Tuesday to Saturday so we aim to post your orders out Wednesday to Saturday so that you receive the freshest goodness straight to your door. All our fresh products are posted First Class.
Keep the granola in an airtight container once opened
Ingredients
OATS, maple syrup, vegetable oil, dried cranberries, dried apricots, rice flakes, pumpkin seeds, sunflower seeds, PECANS, ALMONDS, HAZELNUTS, candied ginger, linseeds, molasses, ground ginger, ground cloves, vanilla essesnce, orange zest
Allergen Advice

Please check out the ingredient list to see what these treats contain.
These treats are baked in our wee kitchen here in Grantown and like always we cannot guarantee that they are totally 'Free From' all allergens if you have a serious allergy. But we can guarantee that we follow strict standards that ensure the chance of cross contamination is as low as possible.
Please get in touch if you have any worries or if you need any help and advice.
12 in stock