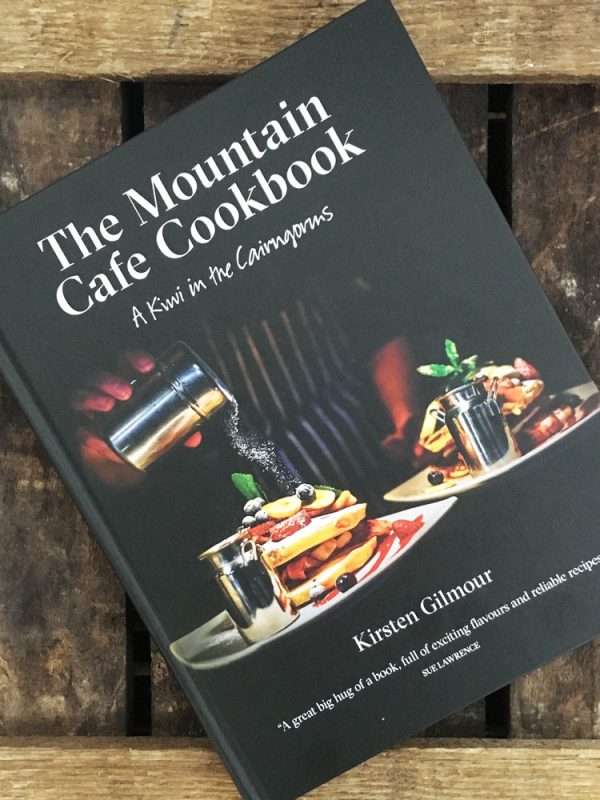 Mountain Cafe Cookbook
£20.00
Cookbook background: "You should open a cafe" they said, "It'll be fun," they said…'
In her first cookbook Kirsten shares her journey and her kitchen secrets so you can recreate her legendary breakfasts, inventive salads, flavour packed soups and indulgent cakes.
With the impact of Covid and losing the Cafe the book is an invaluable source of great food to stoke those memories of eating fabulous food and drinking great coffee in her wee cafe in Aviemore
This is not difficult restaurant food, just fresh and gutsy cooking that will taste just as good in your kitchen as it does from hers.
"Kirsten has been serving her Kiwi-inspired food for many years and here she shares her secrets for those delicious breakfasts, meals, cakes and drinks.  As a fellow NZ'er I'm proud of her achievements."

PETER GORDON (Godfather of fusion cuisine and founder of The Sugar Club restaurant)
"A one way ticket from New Zealand led this young Kiwi to the Cairngorms where her family recipes for mammoth cakes and hearty ranch-style soups put Aviemore on the culinary map."

GHILLIE BASAN (Scottish based food and travel writer, cook and workshop host
Pop any messages into the notes section when ordering, Kirsten will happily sign or scribble a
message in your book before we post it out!