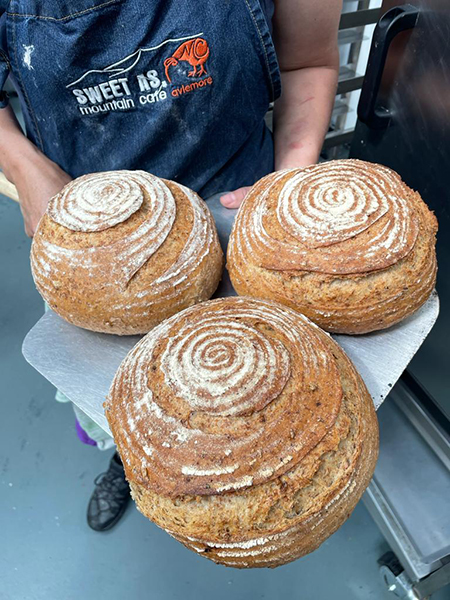 12 Month Brown Bread Club
£3.80 / week for 47 weeks
Bread with wholemeal, rye or malted flour
Bothy Bakery Brown Bread Club – 12 Month subscription
Delicious, freshly-baked bread, made with love every Thursday and Saturday!
No need to order each week, simply sign up and you'll never miss out on an amazing tasty healthy loaf!
So, once signed up, you will receive amazing loaves of bread automatically over the length of the subscription. In this case a whole year. We have taken account of our holidays through the year.
Set up your subscription by choosing to have a brown style loaf or loaves, the flavour of which will change each week. Your brown loaves could be anything from a honey wholewheat loaf to a rustic Irish soda bread. You will always get a loaf that is made using the finest wholemeal, rye or malted flours. Brown healthy bread does not need to be heavy or bland & we are really proud to offer a wide range of very tasty brown breads straight to your door.
We offer these breads on either a Thursday or a Saturday or both with free delivery which we aim to always deliver by E-Cargo bike. You can even take a bread holiday if you are going to be away for a week or two or simply don't need a loaf for any reason
Delivery by bike is free to anyone in Grantown, Skye of Curr, Dulnain Bridge and Cromdale as a perk of being part of the club.
We don't offer delivery anywhere else unfortunately but you can also collect the bread from us here at the bakery.
You'll be charged on a weekly basis and your subscription lasts for 12 months
Please let us know if you have any dietary requirements, so we can make sure we give you the best bread to suit your needs
We also have other subscription options if you would like our speciality, flavoured loaves on a regular basis. Click on the link to be directed there – French White Bread club or Chef's Bread club
We can't offer our bread for postal delivery we are afraid. Only local delivery and collection