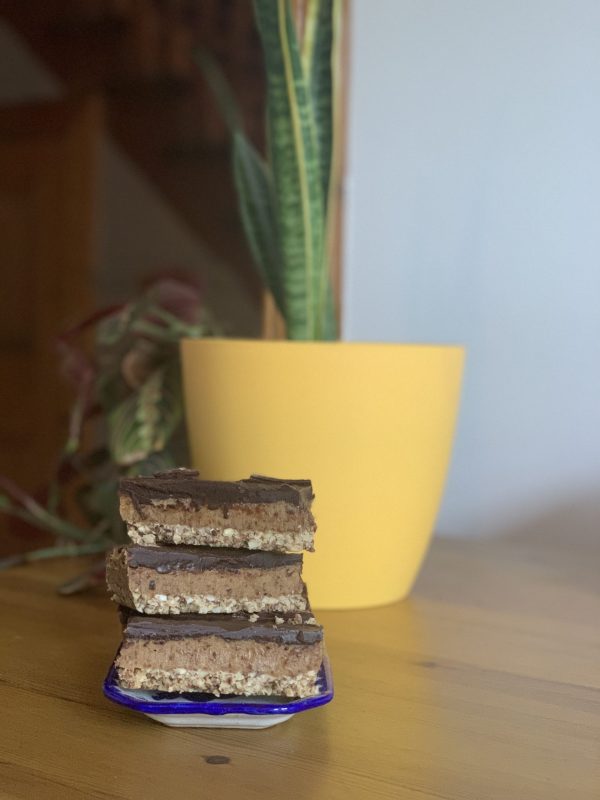 Vegan Millionaire's Shortbread
£7.00
Warning! this is really addictive…
Sold in packs of 2 slices. 
Sarah's latest freaky friendly creation. This slice is Gluten free, wheat free and suitable for vegans.
It's a crowd pleaser and not just for vegans. It's nutty, it's fruity, it's chocolately. It's a belter.
These amazing treats are packaged up in boxes of 2 or 4.
We bake on a Wednesday, Thursday and Sunday and post these treats on Friday, Saturday and Mondays. All our fresh products are posted First Class.
How about mixing it up and adding some other treats – https://mountaincafe-aviemore.co.uk/product/rocky-road/ for instance…..
Our Vegan Millionaire's Shortbread has a shelf life of 7 days. Keep the slices in the fridge in an airtight container.
Ingredients
Dates, almonds, organic coconut oil, soya milk, organic cocoa powder, maple syrup, gluten free oats, vanilla extract
Allergen Advice
Please check out the ingredient list to see what these treats contain.
These treats are baked in our wee kitchen here in Grantown and like always we cannot guarantee that they are totally 'Free From' all allergens if you have a serious allergy. But we can guarantee that we follow strict standards that ensure the chance of cross contamination is as low as possible.
Please get in touch if you have any worries or if you need any help and advice.
13 in stock